Welcome to CASLE's Website Archive
CASLE is closing
After 25 years of success, CASLE is closing (2017). This website will remain active in this archive so as to keep important healthy schools information available for the ongoing task of providing healthy school environments.
To mark this milestone, CASLE is also recognizing extraordinary change-makers, and is honouring many who helped us along the way. See the Awards button.
Since 1992 every Nova Scotian student and everyone who worked in our schools has benefitted from CASLE's efforts. Because systems were changed, the benefits are expected to continue into the future.
Background
Twenty-five years ago the founding members of CASLE were astounded by what they found in schools. Some of us were parents whose children were made sick by their school buildings, and some were teachers whose health has never been the same. We found each other and set out to change that.
Here we are over two decades later. We have partnered with each successive provincial government. We have made schools better across Nova Scotia and across Canada, from Whitehorse to St. John's, and as far away as Australia.
Children can't learn well if they don't feel well. Children are uniquely vulnerable to toxins and hazards in their environments. Our schools, their condition and the products and practices used in them, can influence children's health, well-being and educational outcomes. Researchers have found a 5-to-10-point grade difference between children in good quality buildings versus those in poor buildings.
What is a Healthy School?
"A school with the following attributes would support student and teacher health, learning, and productivity: a dry building with good indoor air quality and thermal comfort, that is clean, quiet, and well maintained." (US National Research Council, W.J. Fisk et. al., Significance of the School Physical Environment – A Commentary. June, 2016)
In Nova Scotia, schools now use healthier products for cleaning and teaching, less toxic maintenance materials and safer practices for maintaining the buildings. Most schools have been repaired or upgraded, and many that can't be fixed are being replaced. CASLE helped develop a new approach to building healthy new schools, called Healthy School Design and Construction. All new public buildings in Nova Scotia are built following these healthy new building guidelines.
(See button at right)
Special Thanks
Money was always tight. CASLE's work was done by the volunteer working board of directors and anyone who would assist us, the only revenues coming from membership fees and donations.
Special thanks to Kit Hood, who, on behalf of the Playing with Time Foundation (producers of the original Degrassi TV series), made a large donation that paid for years of CASLE's operating expenses.
Thanks to the Environmental Health Association of NS who sometimes paid our bills and helped us go to conferences.
Thank you to NS's United Way who made us one of their few "10%" organizations that could receive direct donations.
Thanks to Darren Fraser of UPS who gave CASLE a reduced annual mailbox fee.
Thank you to our webmaster Peter Church who gave so much support above the call of duty.
As much as we appreciate the NS Department of Education giving us a computer and free tech service for many years, this was the least of their efforts! The NS Department of Education, the NS Departments of Labour and Transportation and Infrastructure Renewal, as well as Health Canada have been the most amazing and productive partners in this long term effort.
Healthy Schools Day in Canada/Journée des écoles saines du Canada is being taken on by Canadian Partnership for Children's Health and Environment (CPCHE). Please support CPCHE and make use of this special day.
(see button at right)
Nova Scotia led the way toward making Healthy Schools a priority. There is always more to do, but others will now have to step up.
CASLE's retiring Board of Directors says "Thanks to all who helped us."
We encourage everyone to continue to use this archived website, and to help keep these practices alive.
Selected Quotes from the news that CASLE is closing:
"I heard the dramatic news of CASLE closing. That is too bad but I can understand. CASLE and you have done a lot. It is sad to see it end with so little recognition. People have no idea what went on that made schools healthier for their kids."
– John Sparling, parent and long-time CASLE supporter
"The ability to bring issues to the attention of governments and to see progressive change often requires the efforts of community groups and individual members who have firsthand experience and knowledge. These are the unsung heroes of policy change. CASLE was one of those groups that identified the issue, gathered support and made real and constructive contributions to improve learning environments across the country. As individuals and an organization, you have provided a solid foundation and the work will continue. CASLE has moved the yardstick. With your efforts and persistence much has been accomplished and you leave a library of resource materials for those who will continue your work"
– Jim LeBlanc, Occupational Health and Safety Division, NS Dept. of Labour and Advanced Education
"Sorry to see CASLE dissolve but am so grateful to have known this group who worked tirelessly and voluntarily to improve the conditions of school buildings and the products and practices used in schools, so that students and staff could have safe and healthy place to be. Their efforts resulted in a greater understanding of air quality as it relates to health and the learning environment. Published resources are now available to help administrators, teachers, students, parents, engineers and school boards to understand the issues, to anticipate problems which can arise from activities or design flaws, to help prevent issues in the design phases or planning controls for activities within buildings, to assess air quality where needed and to remediate where deficiencies are found.
Your work has resulted in great improvements within Nova Scotia. Thank you so much for your efforts!"
– Shelley Gray, Peng, CIH, CRSP, Occupational Hygienist, NS Dept. of Labour and Advanced Education
"I want to take this opportunity to congratulate you all on a wonderful, shining example in Nova Scotia of what is possible when there is trust, competence and a will to move forward."
– Janice Sonnen, Executive Director, Canadian Institute of Child Health (CICH)
"I am saddened to hear that CASLE will soon be no longer. You have made such a tremendous contribution to healthy environments for kids in Canada. Your leadership will be sorely missed."
– Erica Phipps, Canadian Partnership for Children's Health & Environment (CPCHE)
"I am sorry to hear that CASLE is being closed. It had made a difference and people now know the importance of healthy schools, thanks mainly to your tireless effort and passion."
– Prof Tang Gim Lee, University of Calgary, Building Sciences
"…many important changes that you wrought in Nova Scotia which translated directly into many healthier children. …We could rely on your solid factual and strategic advice.

Sending you congratulations and deep gratitude from the Lung Association, for the help you have given us, the leadership you have shown and for helping Canadians breathe easier."
– Barbara MacKinnon, President and CEO, New Brunswick Lung Association
"It is bittersweet to close CASLE. You have been such a force for improved air quality in our schools. You helped me a great deal when I was suffering from poor school air. Perhaps now all the new schools being built will use your many suggestions and simply build schools using nontoxic materials and have good fresh indoor air.

Thanks for all your work and a very informative website."
– Darlene Karamanos, Retired teacher, Bridgetown, NS
"I'm sure this was a very hard decision … I so admire the work you've done over the past 25 years. Thanks so much for all you've done"
– Krista Wylie, Co-Founder, Fix Our Schools, Ontario.
"You have done wonderful work, and I am glad that you will keep your website going."
– Dr. Jennifer Armstrong, Canadian Society for Environmental Medicine and EHAO
"I am sorry to hear about the pending closure of CASLE…the work that it has done as an organization, and the work you have done as an individual has made a huge difference in our school environment and others."
– Tim Simony, Principal, Halifax West High School
– Encourage a culture of environmentally healthy schools –
CASLE Says "Thanks"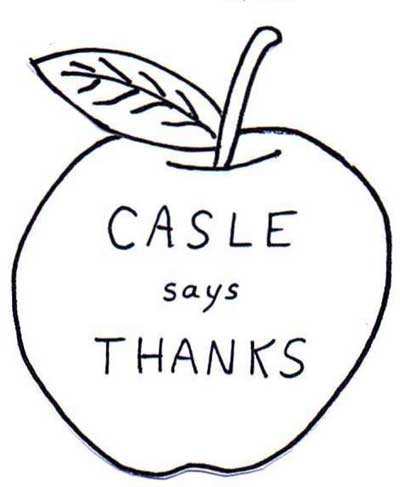 Healthy Schools Don't Just Happen…
They Need You.
Children are uniquely vulnerable to toxins and hazards in their environments. Our schools, their condition and the products and practices used in them, can influence children's health, well-being and educational outcomes.
We love our children more than anything, and they are our country's greatest resource.
Whether you are a concerned parent or teacher, a professional designing a new school, a principal or a maintenance manager, CASLE offers over two decades of experience and resources to help solve problems, and to show how healthy school environments benefit students and staff.
CASLE's Mission
With solid information, respect, and persistence as our primary tools we can help provide environmentally healthy products and practices in schools, and healthy school buildings.
"WORK TOGETHER FOR HEALTHY SCHOOLS"
Not Sure Where To Start?